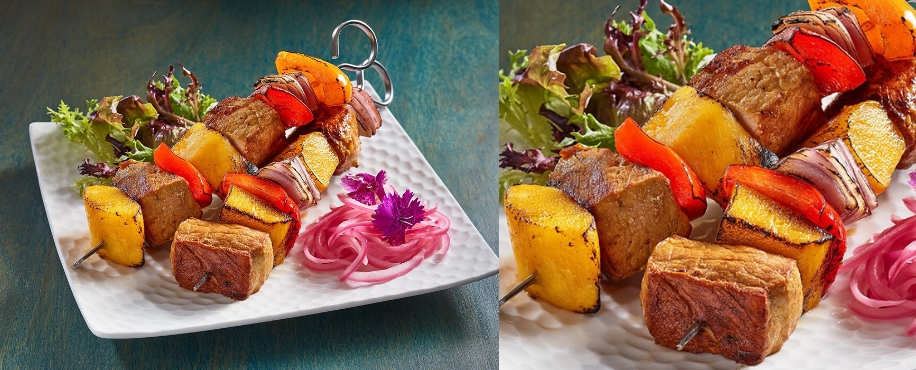 INGREDIENTS
Indonesian Marinade
1 cup chicken broth
½ cup melted butter
¼ cup lemon juice
2 Tbsp soy sauce
½ cup chopped scallion
5 garlic cloves, minced
¼ cup honey
1 tsp coriander, ground
1 tsp nutmeg, ground
½ tsp turmeric, ground
1-½ Tbsp sambal chili sauce
½ cup peanuts, roasted and chopped
Mango Pork Skewers
Indonesian Marinade
2 lbs pork loin, cleaned and cubed ¾ x 1-½ inches
1 red onion, cleaned and cut about the same dimension as mango and pork, separated into layers
2 ripe mangos, peeled and cubed ¾ x 1-½ inches
2 multi-colored peppers, cleaned and cut about the same dimension as mango and pork
Indonesian Marinade:
Combine ingredients for marinade in a large container and add cubed pork loin. Cover and refrigerate 2-4 hours.
Mango Pork Skewers*:
Pre-heat grill to medium high. Depending on skewer length, alternate equal amounts of each ingredient, leaving enough room in between for even cooking. Place skewers on heated grill, carefully turning to grill all sides. Cook until pork reaches 145-160°F, 10-15 minutes. Serve on or off the skewers.
*If using wooden bamboo skewers, soak them a minimum of 30 minutes or overnight to prevent them from burning while grilling.
Recipe courtesy of Chef Farley Kaiser, Wawa