Grilled Mango BBQ Sauce
PREP TIME

COOK TIME

TOTAL TIME

SERVINGS0
Recipe courtesy of Chef Jason Hernandez of Blade & Tine Culinary Consulting
Ingredients
Grilled Mango BBQ Sauce
2 lbs Mango Cheeks
4 tbsp BBQ Seasoning
2 fl oz Oil
3 ppz Minced Onion
2 tbsp Minced Garlic
2 tbsp Minced Ginger
1/2 tsp Cumin
1 tsp Red Pepper Flakes
1 tsp Salt
1 tsp Black Pepper
4 oz Lime Juice
2 fl oz Apple Cider Vinegar
2 fl oz Worcestershire Sauce
2 cups Brown Sugar
2 oz Honey
2 fl oz BBQ Sauce Base
Skewers
1 lb Peppers 2"
2 ea Onions 2"
3 ea Mangos 2"
2 lbs Protein of Your Choice
Cauliflower Rice
2 fl oz Extra Virgin Olive Oil
2 oz Spanish Diced Onions
2 tbsp Minced Garlic
2 tsp Salt, Pepper and Garlic Seasoning
1 tsp Turmeric
PREP TIME

COOK TIME

TOTAL TIME

SERVINGS0
Recipe courtesy of Chef Jason Hernandez of Blade & Tine Culinary Consulting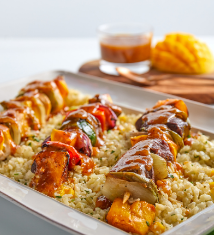 Instructions
Grilled Mango BBQ Sauce
Using a peeler, remove the skin from the mango. Cut the cheeks off the mango.

Using a grill or hot grill pan, season the mango cheeks and place them seasoned side on the grill

Season the other side of the mango, once seared flip over and grill additional side. Once all pieces are grilled set aside. DO NOT COOL.

In a large saucepan, place the oil in the pan and heat on medium high heat. Once the oil is hot add in the onions and mix to coat. Let sear for a few minutes until they become translucent.

Add in the garlic and ginger and sear for 1 minute.

Add the grilled mangos to the pan mix to combine. Add in the remaining ingredients and fold together.

Continue to cook until the sugar is dissolved.

Once dissolved, using an immersion blender or a standard blender in small batches blend until the sauce is smooth and has thickened up.

Place into container until ready to use.
Skewer
For the skewers take all of the peppers and onions cut them into 2" pieces and set aside. Cut the mango cheeks into 2"strips set aside.

Utilizing each of the proteins make sure that they are cut and sliced into the same 2" size

If using the wooden skewers soak in water for 10 minutes to make sure that the skewers do not burn.

To build the skewer place peppers, onions, mango and protein and continue until the skewer is filled.
Cauliflower Rice
In a large sauté pan on medium high heat, place oil in the pan bring to a sizzle.

Place the onions in the pan and sear for 1 minute, making sure not to burn. Add in the garlic and toss quickly.

Add in the riced cauliflower season with the salt pepper garlic seasoning and turmeric. Toss to incorporate.

Let the rice mixture sear for 2 minutes then toss. Continue the process until the cauliflower is seared brown in color and tender.

Once cooked place on platter to be served with the skewers.
Plating
Place the cooked riced cauliflower mixture on a large platter. After grilling the skewers place them on top of the rice mixture spreading them out. Drizzle the grilled mango BBQ sauce over the skewers and serve on the side as well.