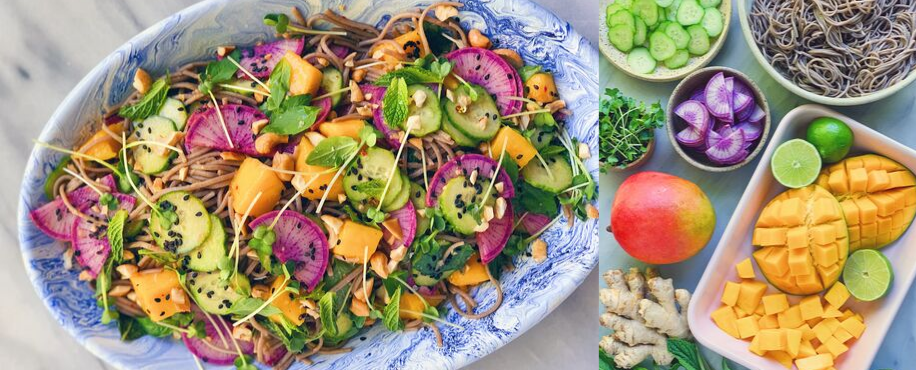 INGREDIENTS
For the salad:
8 oz soba noodles, cooked according to instructions then rinsed with cold water
1 teaspoon toasted sesame oil
1 cup fresh ripe mango, cubed
¾ cup cucumber, sliced in thin rounds (I used Persian cucumber)
½ cup daikon radish, cut in thin half-moons (I used purple daikon)
Fresh mint
Fresh Thai basil
2 Tablespoons toasted cashews, roughly chopped, to garnish
2 teaspoons toasted black sesame seeds, to garnish
For the dressing:
2 Tablespoons avocado oil (or any other light tasting oil you like to use)
2 Tablespoons toasted sesame oil
1 Tablespoon rice vinegar 1 Tablespoon coconut aminos (or tamari)
2 teaspoons chili garlic sauce (or any other spicy sauce you like to use)
1 ½ teaspoons mirin
1 ½ teaspoons fresh grated ginger 1 teaspoon fish sauce (optional)
½ teaspoon finishing salt
Juice from half a small lime
Cook the soba noodles according to the instructions on the package then drain and rinse with cold water. In a medium mixing bowl, toss with 1 teaspoon toasted sesame oil and set aside.
To make the dressing, whisk all ingredients together in a small bowl and set aside.
Prep all other salad ingredients then add to bowl with noodles.
Toss salad with dressing. Garnish with toasted cashews and black sesame seeds.