Celebrate Waffle Day with Mangos
Waffles are a lot like mangos. You can have them for breakfast, lunch and dinner. They can be served savory or sweet. And they're both downright delicious! It should come as no surprise that we'd want to celebrate today's little-known holiday – Waffle Day!
It turns out there are two days devoted to waffles in a calendar year. Beginning in Sweden, today's waffle day started when there was confusion with another holiday on the same day. In Sweden, today is also Our Lady's Day or "vårfrudagen," which is very similar to "waffle" in Swedish or "våffeldagen." Our Lady's Day marks the beginning of spring, and today, people eat waffles to celebrate.
There is also an American Waffle Day on August 24. This date celebrates the anniversary of the first US waffle iron patent in 1869. It's really just an excuse to honor this tasty breakfast food two times a year.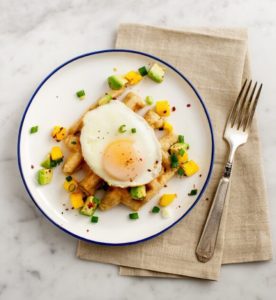 To celebrate today, we're cooking up our favorite savory waffles with fried eggs and mango salsa. A perfectly balanced breakfast dish, these waffles offer up a light kick from the chili powder, satisfy your sweet tooth from the mango, and then even it all out with the fried eggs.
How are you celebrating waffle day? Let us know if you try these delicious savory waffles in the comments below.