Mango Tart
PREP TIME10 minutes

COOK TIME10 minutes

TOTAL TIME

SERVINGS6
Ingredients
6 frozen 3-inch individual tart shells
3 ripe mangos, peeled, pitted and diced
1/2 cup sugar, divided
1 tbsp lemon juice
1/4 tsp salt
1 cup all-purpose flour
1 cup sweetened flaked coconut
1/2 tsp cinnamon
1/2 cup (1 stick) butter, at room temperature
PREP TIME 10 minutes

COOK TIME10 minutes

TOTAL TIME

SERVINGS6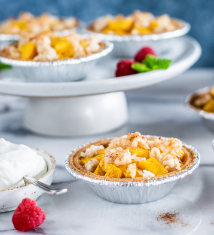 Instructions
Preheat oven to 375°F.

Spray a cookie sheet with nonstick spray and place tart shells on sheet. 

To make the filling: combine the mangos, 1/4 cup sugar, lemon juice and salt in a large bowl; spoon into the tart shells. 

To make the topping: combine the flour, coconut, cinnamon and the remaining 1/4 cup sugar in a large bowl. 

Add butter, squeezing mixture together to form a loose ball, then break into small pieces and sprinkle evenly over each tart.

Bake until filling is bubbly and topping is golden, about 10 to 12 minutes.

Serving Tips: Serve with whipped cream and diced mango.