MANGO MANIA DISPLAY CONTEST 2018
---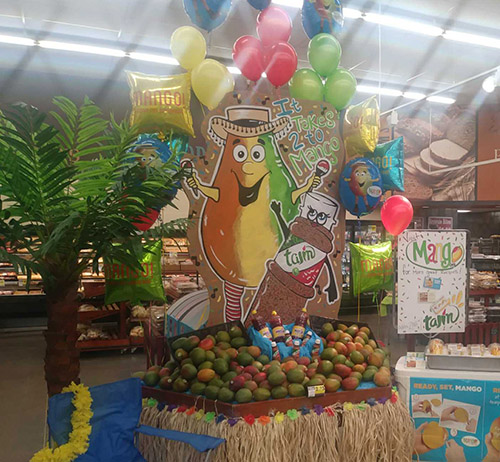 $8,800 IN CASH PRIZES
+
$15 GIFT CARD FOR EACH ENTRY*
+
$15 GIFT CARD FOR EACH ENTRY WITH TAJIN*
WINNERS IN EACH CATEGORY WILL RECEIVE THESE PRIZES:
1st Place: $1,000
2nd Place: $800 
3rd Place: $600
4th Place: $400
8 Honorable Mentions: $200 each
STORE CATEGORIES:
1 to 6 cash registers
7 or more registers
Add a ZING with Tajin
Spice up your mango display with Tajin. Your shoppers will love sprinkling Tajin on mangos for a sweet and spicy flavor explosion.
Include any Tajin product in your Mango Mania display and get a second $15 digital gift card.*
Look for the Tajin samples in your Mango Mania contest kit so you can experience the flavor fiesta for yourself.
STEP 1:
Use the POS materials in the Mango Mania Kit, plus your own creativity to build an awesome mango display
STEP 2:
Keep the display up for at least one week during the month of July
STEP 3:
Submit your entry and photos to the National Mango Board by August 6th
*One entry accepted per store (first entry received).  One digital gift card for each valid entry PLUS a second digital gift card if the display includes Tajin. Digital gift cards will be emailed to the address provided in the contest submission. At least one of the display photos in the entry must clearly show the Tajin product incorporated into the mango display to earn the second gift card. See official rules for more details.
DOWNLOADS