2019 Mango Bin Program
Learn more about the mango bin program and how to get them for your retailers.
Order here
A limited number of mango bins may be ordered by mango shippers on a first come, first served basis, using this form. This order system will be closed as soon as all bins have been reserved. This year, 2,000 bins will be available for mango suppliers.  All bins must be ordered in advance, prior to the production run.
The NMB retail team will be offering mango bins to many of our retail partners. Our goal for this year is to place 10,000 mango bins with retailers. The additional bins being offered to mango shippers will provide a way for smaller retailers to participate in the mango bin program.
2019 MANGO BIN DETAILS
ORDER DEADLINE, DELIVERY DATES & QUANTITIES:
Orders will close on April 8 or when quantities run out.
Ship dates starting April 17, 2019
Up to 200 bins per company. If you need more, please contact Tammy Wiard at twiard@mango.org.
MANGO DISPLAY CONSTRUCTION:
Durable corrugated construction with aqueous coating for added strength. Display sets up easily in less than 5 minutes, instruction sheet included.
24″x 16″ footprint
5″ deep product tray
36″ overall height
Holds approximately 8 to 12 cases of mangos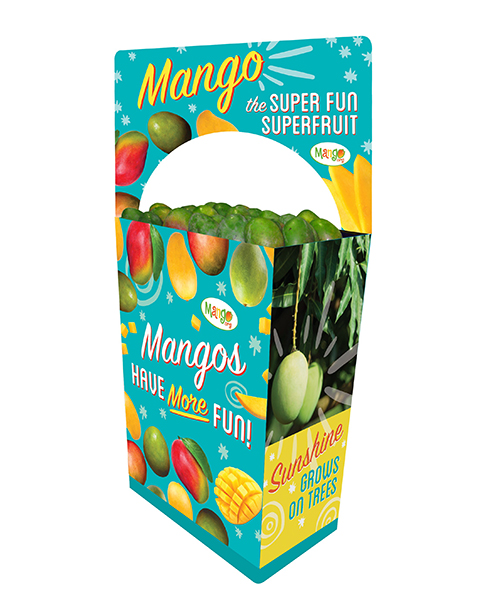 MANGO BIN PROGRAM GUIDELINES:
1. Please do not order bins for retailers that are listed below. These retailers are already scheduled to receive bins for their full store count.
Albertsons/Safeway – all Divisions
Associated Wholesale Grocers
Bashas
Bristol
Cardenas
Fareway
Fiesta
Food Lion
Giant Carlisle
Giant Landover
Hannaford
Hy-Vee
Jewel
Key Foods
Lowes Marketplace
Market Basket
Meijer
Northgate
Price Rite
Publix
Raley's
Redners
Roche Bros
Rouses
Schnucks
Southeastern Grocers
Stop and Shop
Supervalu
Target
Tops
United
Wakefern
2. A single company may order up to 200 bins. If you need more than 200, please contact Tammy Wiard at twiard@mango.org.
3. A mango shipper operating under multiple trade names or in multiple locations is considered a single company for the purposes of bin distribution.
4. All bins will be shipped to your U.S. facility for distribution to your retailers. No shipments outside the U.S.
5. The total quantity of bins ordered per company will be shipped to a single address in a single shipment.
6.There is no cost to you for the bins or for shipping to your facility. This program is funded through mango assessments.