The 100 Year Old Mango Tree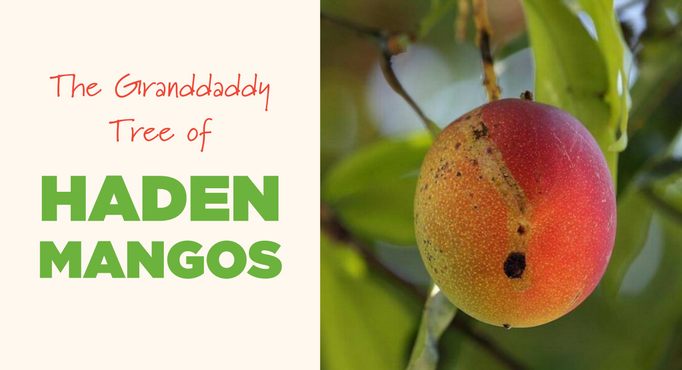 There's something historical and delicious living in the Biscayne Bay of Miami, a tree so long living that it's said to be the first Haden mango tree in Florida existence.

The love for mangos in Florida is relentless and long living. Floridians, especially South Floridians, express a love for mangos than can only be found from those who grew up with trees in their backyards. The history of native Haden mango trees in Florida comes from the granddaddy of all Haden mango trees – located in the backyard of a Biscayne Bay home.

The birth of the famous tree happened over 100 years ago by from the work of John and Florence Haden. The two Missouri natives moved to Florida in the late 1800s. Upon their arrival in Miami, they began growing tropical fruits. The Hadens learned of Mulgoba mangos that a grower in West Palm Beach had produced. Intrigued, the Hadens made a visit and successfully brought back 4 dozen Mulgoba fruits.

After some trial and error, and John's unfortunate death, Florence noticed one tree in particular blossoming large, blush mangos, different from the rest. Soon other growers learned of this new tree and work began to graft the, now known as, Haden tree.

It wasn't long after that Haden trees began appearing all throughout South Florida, sparking a statewide love affair for this delicious native fruit.

Today, a particular mango tree is said to be the original Haden mango tree. Botanists and other mango aficionados suspect this tree to be the beginning of Haden mangos in Florida. Existing for over 100 years, the tree has withstood both diseases and hurricanes. While no one can say with certainty this is the tree to have started it all, the evidence is undoubtedly strong.

In a day in age where the unthinkable is thinkable, and tomorrow is never guaranteed, the Haden mango tree is a symbol of resilience and hope for many.