Happy National Pancake Day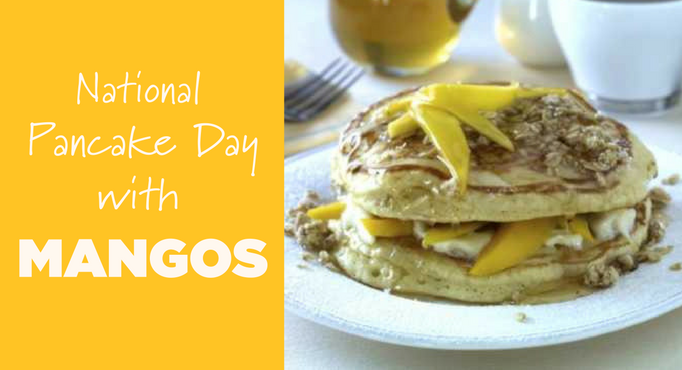 What better way to celebrate National Pancake Day than by whipping up a new recipe (or a few) for family and friends?
Most people would agree that pancakes are heavenly. Whether with chocolate chips, bananas, strawberries or cinnamon, there's a pancake type for everyone. As you gear up for Spring, and eventually Summer, add some mangos to your pancakes this season for a tropical twist.
Below we've listed a few ways to incorporate mangos into your next pancake event – we've even listed some recipes for your heart's desire.
Topping
There's no easier way to add mangos than to sprinkle some diced mangos onto the grand finale. Use your favorite plain pancake recipe, then dice some fresh mango on top! Layer with a little syrup, and you'll find the perfect sweetness. Of course, if you like a challenge, we recommend Gordon Ramsey's Coconut Pancakes with Mango Slices. Get the recipe here.
Syrup
Looking for a different way to use mangos? Try mango-infused syrup, delish. Similar to other fruit glazes, create your own syrup with the sweetness of mangos. We've got just the recipe – our Mango Bliss Cakes.
Batter
If you like your pancakes smooth, blend some mangos into the batter, yes, it works! Think banana pancakes, but better. Incorporating mangos into the consistency of the batter is an awesomely new way to create tropical flavored pancakes. Make sure you have a blender or food processor, and you're set. Give Deliciously Ella's recipe a try and you'll fall in love.
Diced Ingredient
Blueberries and chocolate chips surely aren't the only way to mix up the taste of your pancakes. Add some diced mangos instead, and you'll definitely please your guests. We're drooling over A Sassy Spoon's recipe: get it here.
Whichever way you choose to use pancakes; mangos are sure to add a summery kick. Get more mangos breakfast recipes here and Happy National Pancake Day!