Blending Cuisines in the Philippines
The Philippines, a country of over 7,000 islands, offers boundless forms of life. Its inhabitants benefit from incredible coastlines and extensive biodiversity. Among all the features that differentiate the Philippine islands, one feature (of many) unites the islands, mangos.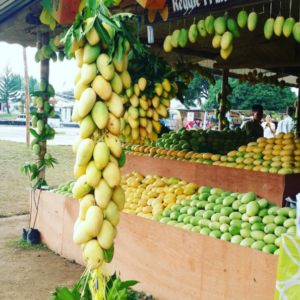 Mangos are a popular sight in Philippine markets. It's not uncommon to see carts with meticulously stacked manila mangos for sale off the streets.
As you might expect, Filipinos have a strong love for this delicious fruit. In fact, the love is so strong in Guimaras that it is forbidden to bring other fruits to the island to prevent anything from contaminating their mangos. The mangos in Guimaras are regarded as one of the best, sweetest mangos in the world. The island has famously served its manila mangos at the White House and Buckingham Palace. Guimaras is also home to the Manggahan Festival (Mango Festival), an event that lasts over a week and boasts dozens of mango-inspired activities, including an all you can eat mango contest and mango cooking contests.
However, the mango love extends past Guimaras. Mango growers in the Philippines are classified as backyard growers, commercial growers, or corporate farms, and about half the mango supply comes from backyard growers.
These backyard growers are classified by owning 5-20 mango trees, meaning half of the mangos in the Philippines come from someone's backyard – talk about eating local and supporting small businesses. Did you know, the world's largest mango comes from a Filipino front yard? This famous Keitt mango was found in 2009 in Cagayan de Oro City weighing over seven pounds.
Filipinos eat the fruit in ways that are intrinsic to each mango's uniqueness. Sweet mangos are reserved for eating fresh, or juices and dried mangos. The sour manggang hilaw (green unripe mangos) are often eaten with bagoong, a popular fish paste. Filipinos' innate love for utilizing mango for both its sweetness and sourness complements their passion for combining contrasting flavors, otherwise known as counterpoint, to create unique, robust flavors.
Philippine cuisine is a collection of Hispanic, Chinese, American and other Asian influences, and as the country modernizes, so does its food. Mangos share a tree to table story with its natives and continue to prove versatile in its evolving Filipino culinary fusions.