A Delicious Grab and Go Breakfast Item!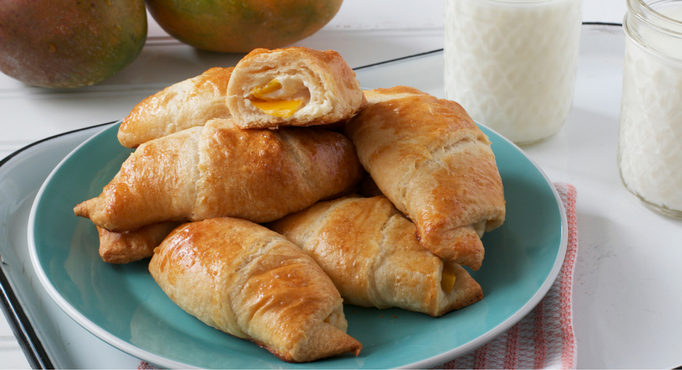 What better way to start the day with than our mango and cream cheese crescent rolls! Made with sweet cream cheese, fresh mango and soft flaky dough, these delectable pastries are the perfect morning wake up call for any day of the week!

INgredients
6 ounces cream cheese, softened

2 tablespoons honey

8-count crescent roll dough

1 ripe mango, cut into eight 1/4-inch thick slices

1 egg, beaten
INSTRUCTIONS
Soft flaky dough blankets, sweet cream cheese and tropical fresh mango for an irresistible treat for after school or tucked away in a lunch box.
Preheat the oven to 375°F and line a baking sheet with parchment paper.
In a large bowl, whisk together the cream cheese and honey until smooth.
On a clean work surface, lay out 8 crescent dough triangles. Place 1 spoonful of cream cheese mixture at the base of the triangle and top the cream cheese with 1 slice of mango. Roll the dough up from base to tip and place it seam-side down on the baking sheet. With a pastry brush, lightly brush the egg over the crescent rolls.
Bake for 15 to 20 minutes, until golden. Transfer to a cooling rack to cool. Serve.
Whether you whip these up the night before to take for breakfast, or surprise the family with a sweet weekend treat, this recipe is bound to get your day rolling!

Keep up with us on Facebook, Twitter, Pinterest and Instagram for more mango recipe inspiration. Don't forget to visit mango.org/recipes for a complete list of mango recipes for every occasion. The taste takes you there!