Womango: Celebrating Women in the Mango Industry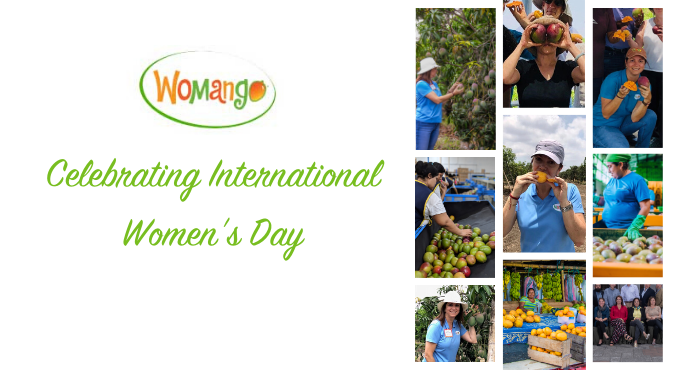 This International Women's Day, the National Mango Board celebrates all women in the mango industry! From the "WOMANGO" growers in the United States, Latin America, the Caribbean, and around the world, to those involved in the mango supply chain and in produce, both in retail and culinary fields, we thank you all for your passion and commitment to a thriving mango industry!
Mango consumption in the U.S. has increased significantly over the last 15 years and this growth is expected to continue into the foreseeable future. In the U.S. and in developing countries around the world, the involvement of women in agriculture is growing. In mango producing countries such as Ecuador and Peru, women comprise 24.8 percent and 31.3 percent of the agricultural labor force. These women who work in mango orchards and mango packing houses deserve to be recognized for their hard work which allows us to enjoy delicious mangos all year-round in the U.S. In addition, throughout the mango supply chain, including retail and foodservice, there are countless women who work tirelessly to push the mango industry forward.
To celebrate, the National Mango Board is changing our name from "Mango" to "Womango" on March 8, in salute of our female industry members and their contribution to a thriving mango industry.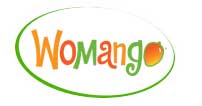 The members of the National Mango Board set a strong example of leadership for the entire mango industry and the women who serve on the board represent diverse backgrounds but share one thing in common, their dedication to supporting the growth and success of the mango industry, all the way from the farm to the end consumer .
From inception in 2005 to present day, there have been 11 female board members. They are current board members are Marsela McGrane, importer, Jojo Shiba, importer, Jacquie Swett, mango producer and Xiomara E. Elias, frozen mango importer. Past board members include Eve Sapp, domestic producer, Susan Underwood, importer, Jean Sapp, domestic producer, Mariana Gonzalez, first handler, Sue Duleba, importer, Isabel Freeland, importer and former chairwoman and Ingrid Rivas, domestic producer.
We caught up with three amazing women on the National Mango Board of Directors to chat about their experiences and their hopes for the future growth of the mango industry: Marsela McGrane, Jacquie Swett and JoJo Shiba.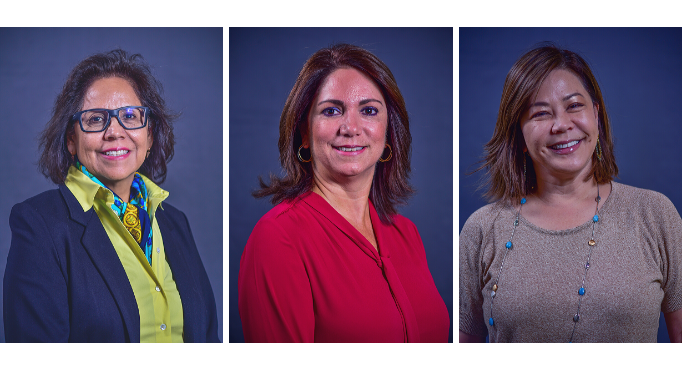 MARSELA MCGRANE – MANGO IMPORTER FROM LOS ANGELES, CALIFORNIA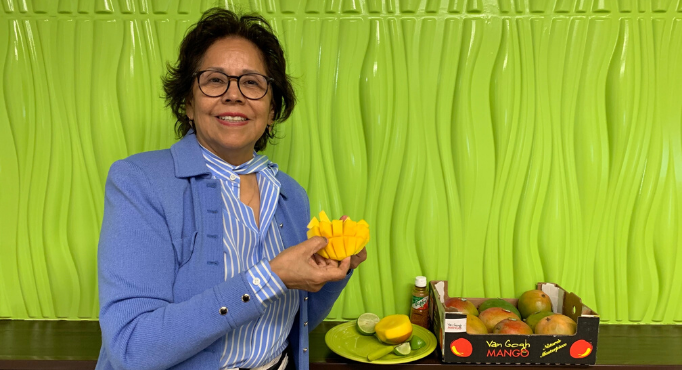 Marsela was born in Mexico and attended school in Texas. She has a master's degree in International Business and in 2001 she joined Vision Produce Company, which is known as a pioneer and successful player in the mango industry.
Today as a shareholder, VP of Latin American Trade, and Board member at Vision Produce Company, she proudly serves as Secretary of the National Mango Board, helping market her favorite fruit.
"As a toddler in Mexico, I grew up consuming fresh mangos and have been enjoying them ever since. Throughout my life, I have been fortunate to have lived in various countries where mangos are the number one fruit to eat. I love everything about mangos. I share with others my experience of the fresh aroma, flavor, sweetness, and varying selection consistency from firm to ripe."
"I would like to see mangos become the number one fruit that is consumed in the US as it is in much of the world. I believe that with more consistency in quality, reliability of fruit yields, and with an empowered young generation continuing the important work that is being done by the NMB, this goal can become a reality."
JACQUIE SWETT – MANGO PRODUCER FROM GUAYAQUIL, ECUADOR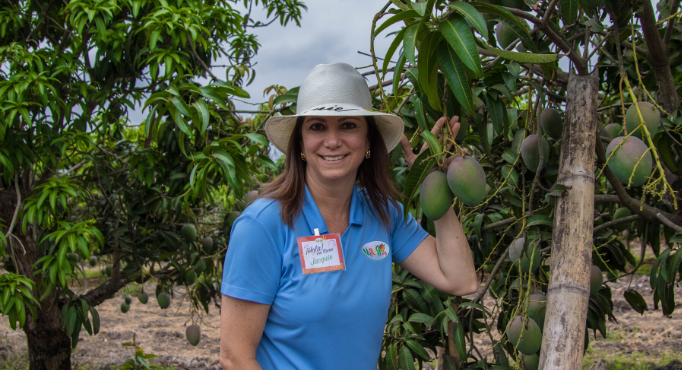 Jacquie Abuhayar de Swett, is a mother, wife and professional in the field of agriculture in mango cultivation. She hails from the mango-producing country of Ecuador and this is her fifth year participating on the National Mango Board. She's been in the mango business for more than 20 years. Ten years ago, she took charge of the family farm. It's an important challenge for her as she does her best to meet her goals, while taking care of the environment and the well-being of her employees.
She fondly remembers climbing mango trees as a young girl, picking mangos from the trees, peeling them with her teeth and enjoying the luscious fruit.  Mangos are, without a doubt, her favorite fruit.
"I will always remember when my husband and I first started planting our field. We visited Colleen Boggs (the founder/owner of the Pine Island Nursery, a leading producer and exporter of tropical fruits, and tropical fruit, nut and spice trees), in Homestead, and she taught me how to graft a mango tree. That was such an exciting day for me, it was the beginning of my farming story! Just the thought that one of the mangos harvested from my trees is going to be bought and savored by another person in another part of the world fills me with such emotion and satisfaction!"
"There is still much to do to place the mango among the top ten fruits. This could happen soon, especially since the younger generations are very interested in eating fresh foods especially fruits. We must continue to work with the great staff that we have and with the agencies that support us to educate consumers and drive awareness and consumption, and determine a way to better market all sizes of mango."
JOJO SHIBA – MANGO IMPORTER FROM SAN DIEGO, CALIFORNIA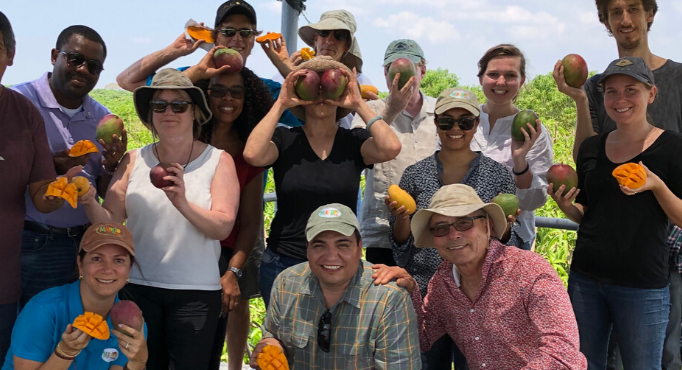 Joella "Jojo" Shiba is mango importer with GM Produce Sales. This is her sixth year participating on the National Mango Board and she currently serves as Chair of the Marketing Committee. Her background is in advertising and marketing and she's been a part of the mango industry and her family's business for 13 years.
"My first-time adding mango to some of my favorite dishes is something I'll never forget. When I added mango to a frozen margarita, it was incredible, mango just takes it to the next level! When I tried juicy slices of mango with a green salad, it was so much fresher and tastier. When I first tried ice-cream topped with a fresh mango puree, I had to have that for dessert every night for weeks. Mango adds a burst of amazing flavor to any dish!"
"The mango industry is really gaining momentum. Mangos are no longer the odd fruit that no one has heard of or knows what to do with. People are starting to want more – more menu ideas, more fresh-cut options, more packaging options and more variety and availability.  Eventually the industry will have to provide more varieties to keep up with demand. I envision mango displays in stores rivalling apple displays with 6 to 10 different varieties available for consumers."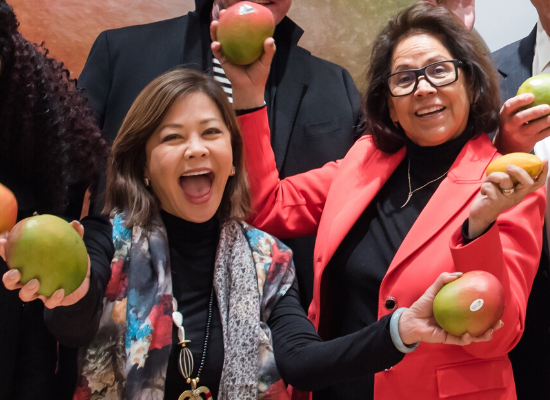 Join us as we celebrate all women in the mango industry this International Women's Day!