ELEVATE FRUIT FLAVOR WITH FRESH HERBS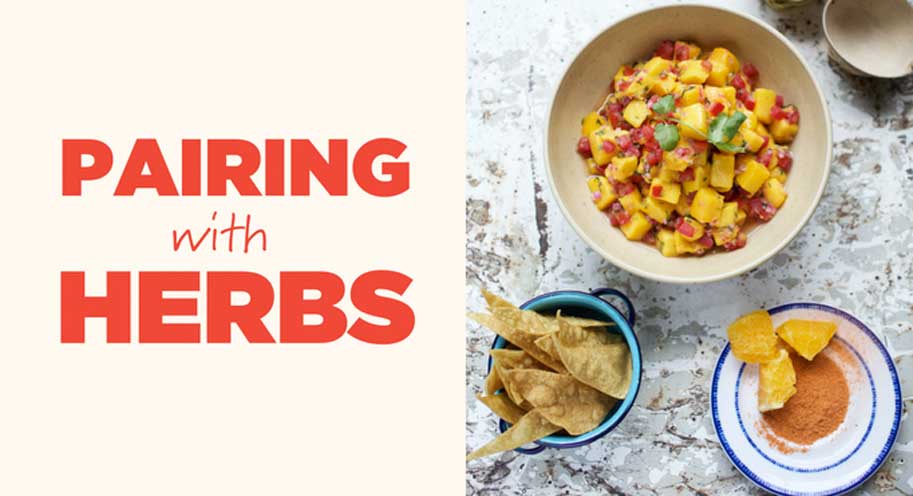 While fruits are refreshing on their own, combining them with herbs and spices takes their flavor up a notch! Here are some of our favorite combinations:
Cilantro
This herb pairs well with mangos and tomatoes! Toss fresh mango into your next batch of guacamole, or try the Mango Pico de Gallo recipe, below. The addition of chili adds the perfect amount of heat to complement the sweet flavor of mangos and the fresh zip of cilantro. And because mangos deliver 100% of your daily vitamin C needs, this is flavor you can feel good about!
Basil
Pairs well with berries, figs and apricots, or try grilling peaches and plums and top with fresh, chopped basil and a drizzle of sweet and tangy balsamic vinegar.
Mint
The cool peppermint flavor of fresh mint pairs perfectly with melons - from honeydew and cantaloupe, to juicy watermelon. Try a simple salad of watermelon and fresh mint, topped with salty feta cheese.
Thyme
Peaches, cherries, honeydew and figs all benefit from the fragrant and flavorful herb thyme. Next time you make a peach pie, throw some fresh thyme in and savor the new flavor experience!
Bring this article to life with these recipes and images from the toolkit:
Click here to get the printable version of this article