Mangover your Tailgate!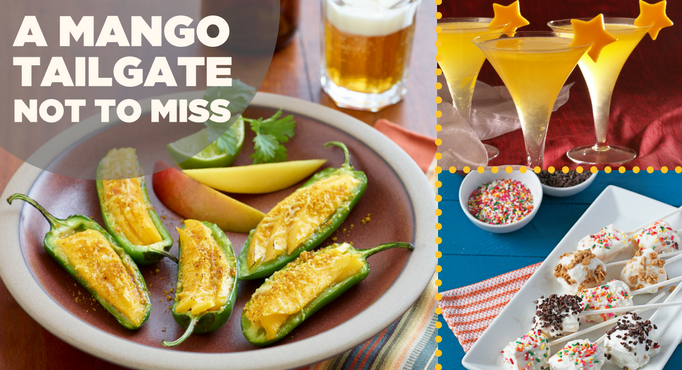 Looking to add a few new appetizers to your Big Game spread? Or maybe you want to mix up your traditional bites? Consider the versatility of mangos to make your finger food selection a little sweeter.
Here's how to mix up your starting appetizers with some mangos:

Salsa
Up your salsa game with the tropical taste of mangos. If you want a kick, mix up our Mango Habanero Salsa for the more adventurous players. Or get an easy first down with tortilla chips and our Mango and Black Bean salsa – classic.
Looking for something new? We recommend our Lemon, Black Pepper and Mango Salsa served with pita chips – a healthy alternative to all those heavy dips.
Finger Food
Now that we have the salsa covered, on to finger food: another area of expertise for mangos. Put our Mango Veggie Roll Ups on the playing field and watch your guests cheer the substitution.
If you want simple, try slicing up some mangos for an easy grab item. We recommend some lime juice and salt to top, an absolute touchdown.
Or maybe you're a pro in the kitchen, and looking for a new challenge: insert Mango Manchego Stuffed Jalapenos with Curry Cornmeal Crunch. While the preparation time may not be as long as the name, you're bound to impress guests with this appetizer.
Kabobs
Mangos on a stick are the field goal of simplicity and deliciousness. Is there an easier way to snack while watching the game? Try our Island-Style Skewers, perfect for the grill.
An easy MVP is our Bacon Wrapped Mango Shrimp, which perfectly combines the sweetness of mangos and the saltiness of bacon to create a delicacy.
Mangos also offer great dessert options. Our Frozen Yogurt-Dipped Mango Pops are an easy win among the crowd. Watch the kids get some play action in as well by decorating the pops with sprinkles or granola.
Drink
Get the spread started with some Mango Bellinis, a perfect way to begin the game day. Of course, if you're hosting a number of thirsty guests, prepare a large batch of our Sparkling Mango Strawberry Sangria – the perfect way to bring the huddle together.
Don't worry, we haven't forgotten about the kids – prepare some Mango Ginger Lemonade and they'll feel a part of the winning team.
Did we miss your favorite mango dish? Don't worry, we have plenty more in the playbook. Check out all our salsa, appetizer, dessert and drink recipes at mango.org/recipes.