#MangoMadness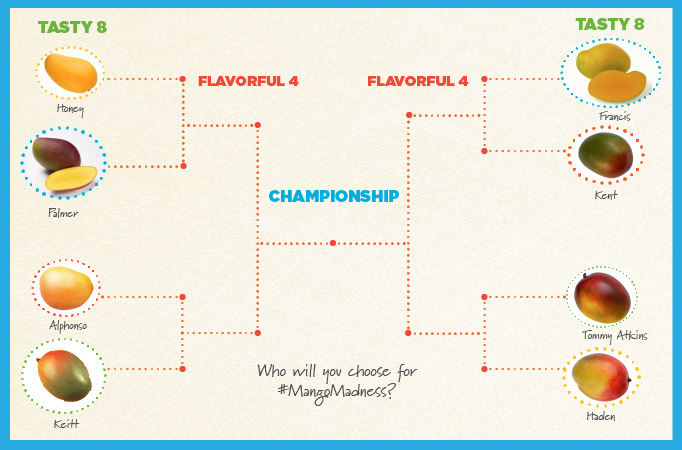 March Madness is here and we've got a delicious line-up that you'll want to add to your team. So on Selection Sunday, which mango will win your bracket? We've got the Tasty 8 to choose from. Let's get the rundown on these mangos, to see who will come out on top:

Honey
Honey mangos have a lot of advantage this season. With their new name, they're feeling extra confident this year and will come out strong. While they may be sweet, they're incredibly versatile. They've also got a long time fan base, who are rooting for their win.

Palmer
The underdog. These mangos are a little less heard of among the crowds, but don't let that fool you – Palmer mangos are incredibly mysterious and can definitely pull off a win. They're appearance is often misleading and they are often ready when you least expect it.

Alphonso
These mangos have traveled the furthest to get here and are considered royalty in their native lands. They're at the top in India and have a lot to prove in the U.S. Known for their richness and bright colors, Alphonso mangos may just have what it takes to win it all.

Keitt
Here we have the local favorite. While these mangos are known to have begun in the sunny state of Florida, these mangos have Asian popularity as well. One of the larger mangos, Keitt mangos provide plenty of juice and may easily wipe out the competition.
Francis
Watch out for this mango – it will definitely spice things up. From humble beginnings in Haiti, this mango gains a lot of visibility in the summer months. Unique in its taste and appearance, these Francis mangos are ready for their spotlight and may just take it all.

Kent
Here we probably have one of the strongest contenders. These mangos are popular and have held a firm presence this season. Though, we'll see if they can keep the strength up, since they typically fade out at the beginning of spring.

Tommy Atkins
If you thought Kents were strong, think again. Tommy Atkins are easily known as the most popular mango in the U.S. Because these mangos are so widely found, they're practically always in season. These mangos really don't slow down. However, their fibers may hold them back some since they aren't always loved by fans.

Haden
Finally, we've got the wise ones. These mangos may not ring a bell, but they've been around for a while. They've been through a lot, and have worked hard to stay in the game. These mangos joke to be the "parents" of other mangos and may just have what it takes to reclaim the title.
We're looking forward to a great Mango Madness this year and want to congratulate all the finalists. Mango fans, pick your winners and get ready to manGO!