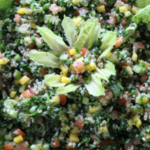 Mango Quinoa Tabbouleh
INGREDIENTS
Dressing:
¼ cup fresh lemon juice
¼ cup extra virgin olive oil
½ teaspoon fresh ground black pepper
1 teaspoon kosher salt
Salad:
1 ¾ cup cooked quinoa, cooled
2 ½ cups chopped curly leaf parsley
1 cup chopped green onion
2 cups chopped tomatoes
1 cup cubed mango
1 cup cubed cucumber
1 head romaine lettuce
In a small bowl, whisk together olive oil and lemon juice. Whisk in the black pepper and salt.
Place the cooled quinoa in a large bowl. Pour the dressing over the top. Mix to combine.
Add the chopped parsley, green onion, tomatoes, mango and cucumber.
Toss to coat.
On a serving platter, arrange your romaine lettuce. Place the mango quinoa tabbouleh on top.
Enjoy!
Recipe courtesy of Amanda Saab,
Amanda's Plate