Happy Mother's Day to All the Fur Moms!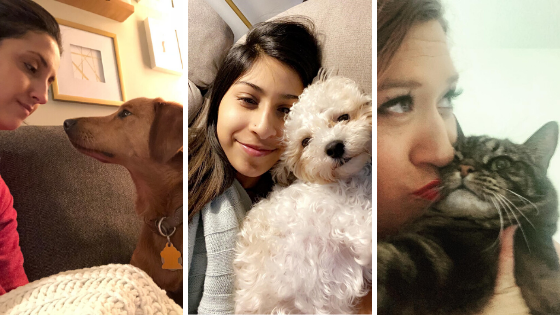 ---
---
Your children have four legs and fur and we know you love them to pieces! While they may not be able to make you funny cards and crafty gifts, you deserve a special shout out this Mother's Day.
It's possible that this Mother's Day may look a little different from past Mother's Day celebrations, so if you're sheltering at home with your little (or big) furry loved ones, it's the perfect day to treat yourself to a delicious Mother's Day brunch. And we've got the perfect brunch menu to brighten up your day!
---
---
You deserve only the best and this Strawberry Mango Cinnamon Toast is simply divine. With sliced French bread topped with cinnamon, mango, strawberry and whipped cream cheese, the combination of all of these go so well together. It's a decadent way to start the day. Feel free to use other berries and toppings you may have in the pantry.
---
---
For a really special treat, what about a stack of delicious pancakes topped with mango citrus syrup and vanilla mascarpone cream. The mango citrus syrup and vanilla mascarpone cream can even be made the night before. Garnish with fresh mango slices, granola and powdered sugar.
---
---
Eggs and bacon are a must, of course, and this recipe has 'em both! Take breakfast to another level with this mango sweet potato breakfast hash because you've earned it! This sweet and savory hash is made with sweet potato and mangos. The recipe includes pancetta but this can easily be swapped with bacon, if you prefer to add a bit of smoky flavor. Top it off with a perfectly poached egg.
---
---
No brunch is complete without the boozy brunch cocktail, am I right? It's time to pour yourself a drink and sit back and relax. This mango mimosa is soooo easy to prepare. Just puree mango with mint, add it to your favorite champagne and give it a stir!
---
---
---
Some More Delicious Recipes for Brunch with Mom
---
---
How to Cut a Mango
Need a refresher on how to cut a mango? Check out this helpful video.
---