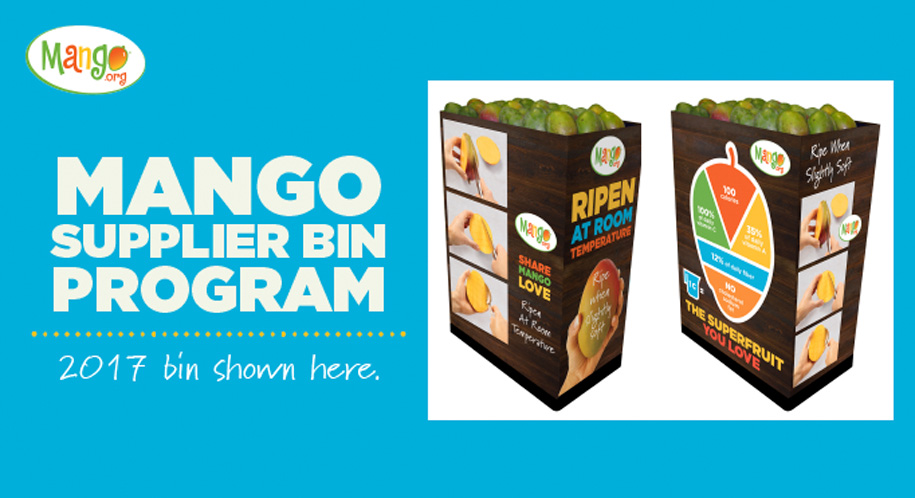 FUN FACTS
A limited number of mango bins may be ordered by mango shippers on a first come, first served basis, using this form. This order system will be closed as soon as all bins have been reserved. This year, 1,000 bins will be available for mango suppliers.  All bins must be ordered in advance, prior to the production run.
The NMB retail team will be offering mango bins to many of our retail partners. Our goal for this year is to place at least 5,000 mango bins with retailers. The additional bins being offered to mango shippers will provide a way for smaller retailers to participate in the mango bin program.
2018 MANGO BIN DETAILS
ORDER DEADLINE, DELIVERY DATES & QUANTITIES:
Title
Order by March 6, 2018
Title
Ship dates starting April 23, 2018
Title
Up to 100 bins per company
Mango education that will overcome shoppers' barriers to purchase
Title
Mango education that will overcome shoppers' barriers to purchase
Title
Colorful, high-quality graphics that will stop shoppers in their tracks
MANGO DISPLAY CONSTRUCTION:
Title
Durable corrugated construction with aqueous coating for added strength
Title
Black plastic bottom tray protects the display from mops and spills

Title
Five sliding casters (pre-attached) make it easy to move, even when fully loaded

Title
Display sets up easily in less than 5 minutes, instruction sheet included
BIN SPECS:
Title
5″ deep product tray
Title
Holds approximately 8 to 12 cases of mangos
MANGO BIN PROGRAM GUIDELINES:
Title
Please offer the bins to your smaller retailers that do not get promotional funding from the National Mango Board. Please see the list of 2018 funded retail partners and DO NOT ship bins to any retailers or wholesalers on that list.
Title
A single company may order up to 100 bins 
Title
A mango shipper operating under multiple trade names or in multiple locations is considered a single company for the purposes of bin distribution.
Title
All bins will be shipped to your U.S. facility for distribution to your retailers. No shipments outside the continental U.S.
Title
The total quantity of bins ordered per company will be shipped to a single address in a single shipment.
Title
There is no cost to you for the bins or for shipping to your facility. This program is funded through mango assessments.

---